My, how you've grown...
I can't tell you how excited we are to be having a girl. Maybe I am more so than the hubs… because she's the tiebreaker and now he's outnumbered. And we fully plan on ganging up on you, Nat; we've talked about it already. Just kidding! Sort of…
The sonogram brought all kinds of new feelings... What a trip to get a glimpse of your little baby for the first time. I say "first time" because the first sonogram – remember the multiple gestations scare? – didn't look anything like a baby. It was Thing. The experiences Thing gave me were, in short, pretty damn awful. You've read how gnarly I was feeling, and how defeating it was to be debilitatingly sick for two straight months and have no choice but to work through it and keep hoping you'll make it to the bathroom that day rather than throw up on your lap in a meeting.
However despite the difficulties, we called her Thing with love. The name came from Dr. Seuss' Thing 1 and Thing 2, which my parents called my brother and I whenever we got into trouble as kids. My sister, the youngest, was and still is "The Queen". I think I'm going to try to be a little bit more equitable with my kids' nicknames…
Here's the picture of Thing, from about 6 weeks ago: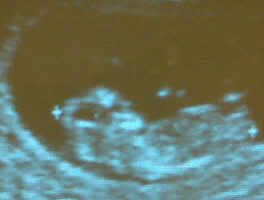 Here are a couple pictures of our little Peach, from Friday:
Yes, I said Peach with a capital P. We're retiring the name "Thing" because that was her First Trimester name. Her second trimester name is Peach (as you can tell, the 2nd trimester is so nice compared to the first). I've been craving peaches for weeks now, so I know she loves them: peaches, peach yogurt, peach juice, peach gummy candy, anything peach I'm all over it so it seems to fit. Third trimester might bring a new name, we shall see...