I don't want to jinx myself…
But I think I am slowly coming back. Friday, as mentioned I went to a holiday party and stayed out until 1 a.m.! Usually I have a 2 hour limit before I turn into a pumpkin (obviously, a euphamism for throwing up). I did have the help of my "magic pill" though… please don't judge, the doctor gave them to me because I throw up so much and get so dehydrated that these buy me a few hours of normalcy. They're perfectly safe, have been used since the 80s, and cost $50 per pill! So I would have conserved, but before we left I started gagging like crazy... Now I have one left and that's it - my insurance only covers six. So I took ½ pill for Caroline's party, talked to
people
(eyed the fish tank) and had a nice time. I don't know if Friday counts as a sign that I'm on the mend because I came home and promptly threw up all the delicious food I ate (nose-roni style) and then went to bed with the shakes.
Saturday though, I ventured out again. I haven't had my hair cut since June, and the last month and a half I've been tying it up in a knot straight out of the shower and leaving it all day. Split ends, icicles when I go outside, I think there might be some dreadlocks in there – I looked like a hippie mess. So I called James Joseph Studio and my guy had 1 afternoon cancellation and was booked for the rest of eternity. It was a miracle. I made it though a whole hair cut and blow dry with the help of stretchy pants and juice! It's amazing what a little physical betterment can do for your mood. Then came home and watched Planet In Peril (watch it!) alone, tossing my amazing mullet like Vidal Sassoon.
Going with the momentum, I was thinking about when I first found out we were pregnant and shrieked, "I haven't even sent thank you's or changed my name yet!" So Sunday, I printed out the Social Security Card name change form and went off to Paper Source to get all the makings for my wedding Thank You cards. I finished about 25 of the necessary 100 of them. They are so cute, you'll never believe I made them… I got an embosser and used ink and embossing powder, and an embossing heater to create the words and motif in mossy green and gold. They match the motif I used to make the escort cards, table numbers, and menus: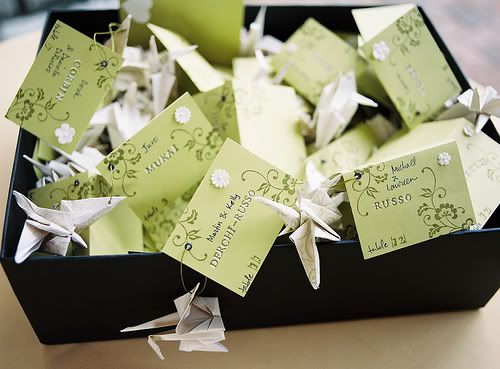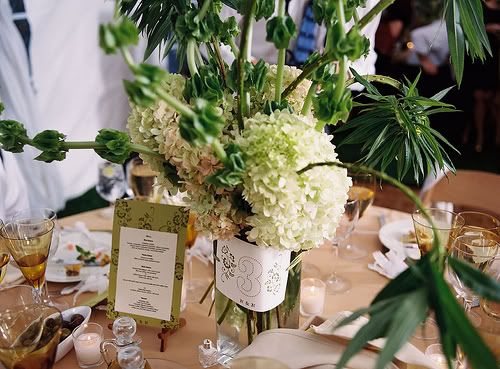 I'm looking forward to getting these in the mail! We should probably stuff a baby shower invitation and Christmas card in there too and save on postage. Nyuk nyuk.
Today, I took a personal day from work since I have a doctor's appointment! I'm so excited I think I get a picture of Thing today. I don't know what to expect but I'm a little nervous to see what's going on in there… I read at week 9 that Thing is "swimming around in it's comfy home" and is the size of an olive. I picture a little green oval wearing a swim cap and smiling with a little pimento nose. Thing is still a cute cartoon in my head! I think today's photo might scare me…
I just read that week 10 (where I am now) is the constipation week and Thing is the size of a prune. I'm glad whattoexpect.com has a sense of humor.